A Stronger ASEAN in An Advancing Free World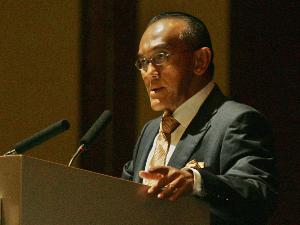 Welcoming Speech Chairman of the 8th Asean Leadership Forum. Jakarta, 8 Mei 2011.
HE Vice President Beodiono
HE Prime Minister Dato Sri Mohamad Nadjib
Senior Minister Cham Prasidh
Ministers, Chairman of Kadin, distinguished guests
Ladies and Gentlemen
Assalamualaikum Wr. Wb.
May peace be upon all of us
I would like to use this opportunity to express our sincere appreciation and grateful to His Exellency Bapak Boediono, His Excellency Dato Sri Mohamad Nadjib and Honorable Senior Minister Champ Pradish (who is representing the Prime Minister of Cambodia) for participating and agreeing to address this Forum.
I am proud that the Asean Leadership Forum is held in Jakarta for the 2nd time. I am also honored to be given this opportunity to be the Chairman of the Forum, which is organised by ASLI and co-organised by the Asean Secretariat and the Indonesian Chamber of Commerce or KADIN.
This Forum brings together government, business, civil society and opinion leaders to review the proggress toward the Asean Community by 2015. We are here also to discuss several strategic topics, namely the issues of enhancing Asean connectivity, the promotion of Asean green growth, and the voices of Asean younger generation.
Besides all that, the Forum will also look beyond 2015. We are going to see what more Asean can achieve in the next one or two decades.
All of these topics are particularly relevant after the conclusion of the 18th Asean Summit, hosted by Indonesia.
It is a timely oppportunity to reflect strategic challenges facing the region in the near future, as China and India are advancing rapidly toward progress, as the world is more deeply globalised, as geopolitical elements, cultures, movement of peoples, and money are shifting, moving, changing in a new pattern and behaviour that quite often cannot be easily understood.
Asean must grow stronger in a rapidly changing world. Asean is founded upon a big idea that a friendly partnership, a bond tied by mutual respect of nations in the region, is our prerequisite for economic and social progress. With peaceful and mutual respect, with the support of our governments, we endorse the basic stuff to take care of itself: free flow of capital, free flow of goods, and free flow of services.
So far, we have been moving in the right direction. But let us not forget the more crucial issue, which I think will bring more complex political consequences, namely the issue of free movement of people, including workers and job seekers. There has been some irony here, because we have been quite advance in moving toward free trade and services, but we have yet to do something significant in guaranteeing and protecting the free movement of people. We seem to like the money, but not the people.
Here the issues of migration, of cultural understanding, of mutual respect among our people are becoming the real test for Asean. So, the spirit of Asean community should not only become the lip service of our leaders, but should be implemented with all our heart and our best effort.
We cannot advance very far into the future if our own people do not treat and relate to each other well, or if Asean governments fail to protect Asean migrants and workers in a respectful and lawful manner. Business cannot thrive if the people do not feel secure and peaceful. Industries cannot long exist if workers are restless and discontended.
I therefore sincerely hope that we can soon commit ourselves to the implementation of the 2007 Cebu Declaration on the Protection and Promotion of the Rights of Migrant Workers. We need to include this declaration as one of our cornerstones in our effort to truly build a stronger Asean society in the global community of nations.
Asean needs to transform itself to become more dynamic, effective, creative, and therefore relevant for all of us. The Cold War is long gone. The balance of power is shifting, the world's political architecture is being re-drawn, and our region is becoming more important.
At the same time, science, technology, capital and information are creating new opportunities as well as new challenges almost every day. With unmatched intensity, we are forced to adapt, almost mercilessly – but if we do our best we will enjoy almost unlimited promises in the future.
So we have to be prepared and move fast enough. I therefore believe that our discussions in this Forum over the next two days will be interesting, productive, with lots of new ideas and far reaching insights.
In closing, I wish to thank ASLI and its CEO Dato Michael Yeoh for giving me the opportunity to address this forum as its Chairman. I wish you are all very well. Let us strive to think Asean, to act Asean, and to build our region that our peoples can be proud of.
Wabillahitaufiq walhidayah
Wassalamu alaikum Wr. Wb.