Indonesia: Moving Forward
USINDO Forum. Washington DC., December 7, 2011.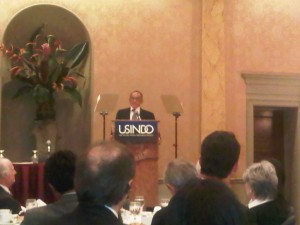 USINDO's President, David Merrill
Your excellencies Mr. and Mrs. Dino Djalal
Professor Paul Wolfowitz,
Honorable guests
Ladies and Gentlemen:
Let me begin by expressing my sincere appreciation to USINDO for making possible such a wonderful gathering of people. It is a great honor to be with you to discuss the future and the promise of Indonesia.
I know that many of you who are here today love Indonesia deeply. The US-Indonesia relationship is strong and warm because it has been cultivated and promoted by friends like you.
You have educated the American public and persuaded the American leaders that our two countries have much common ground and many common interests. Rooted in deep friendship, both of our nations can play constructive roles in promoting world peace and cooperation. Through various efforts, you have also helped increase mutual understanding between our societies.
For all your positive contributions, I thank you and encourage your continuing efforts in the coming years.
Honorable guests
Ladies and Gentlemen:
I know I am expected to discuss with you the coming 2014 election in Indonesia and how we are positioning the Golkar Party to win the election. I also know that I am expected to share my view regarding the future, post-SBY leadership. This seems to be a timely and a very interesting issue, wildly speculated, not only in Jakarta, but apparently also in Washington DC.
In Jakarta, I guess I understand the reason why. But in Washington DC., honestly, I am quite perplexed. I heard rumors about my intention to visit this town. Let me assure all of you, although I am a former businessman, I do not come to this town to help Donald Trump shoring up the Gingrich campaign. The reason why I come here is because I want to make sure Ambassador Dino Djalal behaves really well in defending the interests of our Indonesia.
Ambassador Dino Djalal is one of our young rising star diplomat. This reminds me of another young and handsome ambassador, also a young rising star, an intellectual republican and a very popular American in Jakarta, who was sent by President Ronald Reagan to introduce political openness in Suharto's Indonesia more than 20 years ago. (Professor Wolfowitz, thank you).
I am sure Ambassador Djalal will have a long career. My only hope is that in the future, if he decides to become politician, he will join the Golkar Party, not the Democratic Party.
Now, about the 2014 election, Golkar and post-SBY leadership: I will certainly discuss these important and interesting issues. But before that, let me talk a little bit about Indonesia in general, to give you a kind of progress report about our journey so far.
As you all know, Indonesia has been a democracy now for more than a decade. Democratic transitions are always difficult, especially for a large and plural society like Indonesia. But I think we have passed the most difficult tests, when the country was on the verge of breaking apart in the early years of the transition, or when the most severe effects of the 1998 financial crisis brought the country's economy almost to its knees.
That was a period of growing pains, of maturing as a nation when the challenges were at their greatest. Fortunately, because of the resilience of our people, we held on and survived. The trials and tribulations of that period made us stronger. Today, we are now a proud democratic nation, the third biggest in the world, moving forward to realize our dreams and fulfill our destiny.
Among the biggest gains we have made so far is the growing consensus among our people that we are not turning back. Freedom, democracy, open and more accountable government, protection of basic rights: these are now part of the Indonesian grand narrative which we are going to protect and transfer to the next generation and beyond.
Furthermore, we have managed to maintain our moderation and our religious tolerance while expanding the sphere of free discussion. Many of you here know very well that this has not been easy. From time to time setbacks and terrible things have occurred, like the bombing in Bali and the bloody conflict in Ambon and Poso. It was a test to our commitments and to our political will to ensure social and religious harmony, so dearly held by our constitution and so deeply embedded in our philosophy of Bhineka Tunggal Ika, or E Pluribus Unum, as you call it here in America.
But overall, given the complexity of our society, we have dealt with the problem quite well, while learning to exercise power in proportion to our need.
We have also demonstrated to ourselves and to the world that Islam is compatible with democracy and modernization. The Islamic parties have played a major role in renewing our commitment to social justice. These parties, supported fully by Islamic social organizations, have also contributed in our effort to stop terrorism and to minimize the influence of religious demagogues and religious fanatics.
Another area in which Indonesia has also exceeded expectation has been the empowerment and revival of the regions, particularly in Sumatra, Kalimantan and in the major islands of Eastern Indonesia. Decentralization of power has resulted in a silent revolution: directly-elected governors, mayors and local representatives are now playing a more important role in shaping the policies and delivering basic services to people around the country.
Successful local leadership in the regions is one of the key factors that explains why the rates of economic growth in regions outside Java have been consistently higher than those of the major areas in Java. In the coming years this will result in a big transformation in which the country's engines of growth and progress will no longer be primarily in Jakarta, Surabaya or Bandung, but also in Balikpapan, Palembang, Makassar, and Jayapura. The future lies in our thriving regions, and Indonesia will become a stronger country because of it.
This progressive trend in the regions is also the reason why, while we were transforming our politics, our national economy grew surprisingly strong, over 6 percent per year, joining the ranks of other high-achievers in the developing world like China, India, Chile and Brazil. In the depth of the 1998-1999 financial crises, and again in the 2008 mini-crisis, it was in fact our regional economies that saved us, helped by the booms in the world's commodities and energy sectors.
In about one decade, if this trend continues, Indonesia will join the ranks of the so-called upper middle-income countries, which means that our middle class will become significantly greater in number and more dispersed in geographic location, which in turn should help strengthen the foundations of our democracy.
Now, by painting this rosy scenario, I am not saying that our journey will be easy. With all its progress, the Indonesian economy has not realized its full potential due to a range of some structural problems, many of which are related to our infrastructure.
If you go to Jakarta, after you have arrived at Sukarno-Hatta Airport in Cengkareng and you are in a car heading to your hotel, it is easy to understand this problem. The airport is aging, with rapidly increasing number of flights, even more than that of the Changi Airport, Singapore. The traffic jam is just terrible as you make your way along the only toll road, which was built more than 20 years ago. This toll road is the only freeway passing through the heart of Jakarta. There have been many plans to improve Jakarta's traffic and build new freeways. But so far, we have not been very successful in catching up with the city's rapid growth.
This problem happens not only in Jakarta, but in fact in many of our major cities. And I am not talking only about roads and freeways, but also, sadly, about many other public facilities, like power plants, ports and airports, public hospitals, and the like. It has created bottlenecks in many areas which are slowing us down.
The irony is that such bottlenecks have occurred not because we could not afford to pay for better infrastructure. This year we will spend more than 25 billion US dollars for fuel and other misdirected subsidies, the biggest expenditure of the government, even more than our expenditure for education. This is a terrible waste of limited resources. And yet we do it every year and there seems to be no alternative in sight. This, I think, is among the greatest public policy problems that we will have to deal with in the coming years.
If we can solve the subsidy and the infrastructure problems, and if we can also push for breakthroughs in poverty alleviation programs and create a more healthy business environment for our millions of small scale enterprises, I am sure Indonesia will move even faster.
We have to do all this while keeping the management of our macro-economy prudent and keep improving our investment climate.
In short, by dealing directly with the problems we are facing with better policies, I am sure it will be possible for Indonesia to speed up its rate of growth, increasing to 8 to 9 percent per year, or even better.
Other pressing issues that we have to face are related to the rule of law and the institutions of justice. The weakness of these institutions is the reason why we seem to be unable to fight corruption significantly. The establishment of the KPK (the Corruption Eradication Commission) is a move in the right direction. But this independent body can never do it alone.
Without reforming our formal institutions of law and justice, and without reforming the way we govern the economy, I fear that we are fighting corruption only in the most superficial way.
There are also some important problems regarding the excessive fragmentation in our parliament and the weakness of our politicians. I am the Chairman of the Golkar Party, but I have to be frank with you that, in most opinion surveys released in Jakarta lately, the numbers have hit new lows in regard to trust in government and political institutions in general.
I understand that here in the US you have only two parties, and yet it seems to be very difficult to ask your politicians to agree on anything or to get something done quickly. Now, just imagine, Indonesia has 9 political parties in our legislature. They are lively and full of passion. So you know what we are dealing with.
We have to find realistic solution to this problem, otherwise the public is increasingly skeptical. Skepticism in politics might be quite healthy in a democratic society. But beyond a certain degree, it will become dangerous, because it will erode the legitimacy of democracy itself.
There are many other problems in the future, but let me mention just another one, which is related to the stability of our regions and the integrity of our country. We have basically solved the problem of peace in Aceh — and Aceh now, even after the tsunami several years ago, is a thriving place, with a working local democracy. It is not yet perfect, but it is working.
After Aceh, we are now dealing with an apparently growing separatist movement in Papua. We have to deal with this problem with care, sympathy and sincerity.
Let me say it clearly in no uncertain terms: for us, the breaking apart of Indonesia is not an option. Abraham Lincoln once said, "a house divided against itself cannot stand." Lincoln was willing to compromise and offered his hands of friendship. But he set up a certain limit, beyond which nothing was acceptable if the unity of America was threatened.
In Indonesia, we also believe in such principle. The solution to Papua is not political independence, but peace, rule of law, respect, moderation and, above all, social welfare and broad-based economic development. Concerning the latter, we have to acknowledge that while other regions in our country are moving fast, some significant parts of Papua are being left behind, especially in the Jayawijaya mountain region where about 60 percent of the local people live.
The coastal areas of Papua are basically improving quite rapidly, but the region in the mountain, because of its extreme isolation, suffers greatly from what economists call a land-locked problem. They are being trapped in the mountain, without easy access to outside areas. We have to acknowledge this problem and break up the isolation as far as possible.
I had a long personal experience dealing with Papua, when I was the coordination minister for social welfare from 2005 to 2009. Our programs then dealt directly with the issue of social welfare in the mountain region. We brought hundreds of doctors, agricultural tools and experts, teachers and schools, communication tools, solar panels for electricity, clean water, and many more.
The local people loved it and asked the central government to do much more. Quite a significant number of armed separatists literally handed their weapons to me. While we were implementing our programs from 2005 to 2009, there were no single incident of protests and conflicts of any kind. From this personal experience, I learned an important lesson that if we truly and sincerely fight for their welfare, the people of Papua were very friendly and peaceful.
So, if we can manage the issue of Papua well, and truly develop the area with dignity and sympathy, there is no question in my mind that 10 years from now Papua will become one of the brighter stars in eastern Indonesia.
Honorable guests
Ladies and Gentlemen:
Now, finally I will talk about the Golkar Party and the coming 2014 election. Let me begin by stating the obvious: Golkar is the oldest party in Indonesia, with long experience in power. When the country changed and we entered the period of democratization, Golkar quickly responded by repositioning and reforming itself.
We truly embraced the new democratic spirit while maintaining our basic identity as a party which fights for development, social welfare, stability, and strong but responsible government.
Although we were in the second position in the 2009 election, it is not an exaggeration to say that Golkar is the party with the most extensive regional network and membership. Today, more than 50 percent of all governors and mayors who have won local elections are members or candidates supported by Golkar.
This puts us in a good strategic position to win the 2014 election. I expect Golkar to win somewhere around 30 to 35 percent of the national vote. This is respectable, but it will not be enough: we will have to form a coalition with other parties to control the parliament.
We are also aiming at the presidency. The last thing Indonesia needs is political deadlocks and the executive body is unable to launch major policy breakthroughs. Golkar wants to avoid this by winning both the presidency and leading the majority coalition in the legislature.
I know, it will not be easy, but we have to try, because the solutions to our problems as I described earlier, require not only experienced hands, but also coordinated and concerted actions led by a strong and decisive president who is supported by a broad party coalition.
In democracy, good policies require strong but accountable exercise of power. This is what Golkar is offering to Indonesia. In our history, we have proven that Golkar can deliver: major reduction of poverty rates throughout the 1970s and 1980s, building hundreds of thousands of schools in the counties and villages, local health centers, family planning programs, modernization of agriculture, the move toward industrialization, and much more.
It was then the golden time of economic development when Indonesia was regarded by the world as one of the miracles in the developing country.
We want to repeat this success in the new context of democracy and openness. As the party chairman, it is my job to get the message across to the people of Indonesia. We are fighting for their trust and we want to earn their support.
As for myself, whether to run or not to run for the presidency, I surrender my fate to God the Almighty – and also, of course, to the members of my party. The presidency is not an end in itself. It is a very honorable position to service the nation, to make a difference, and to do something useful for others.
But honestly, before I take any steps to convince the nation about my candidacy, I will have to convince my wife and my three children, not to mention my mother, two brothers and one sister. Their signals so far, perhaps like the conditions of the world economy, are still uncertain. I guess I will just have to work harder.
But whatever decisions are made in the months ahead, I look forward to continuing this dialogue with the US-Indonesia society. And again, I thank each and every one of you for your friendship and support to the people of Indonesia
Thank you.